Press Release
During this Immunization Week, Take Action – Vaccinate Your child!
24 April 2021
UNICEF and WHO joint press release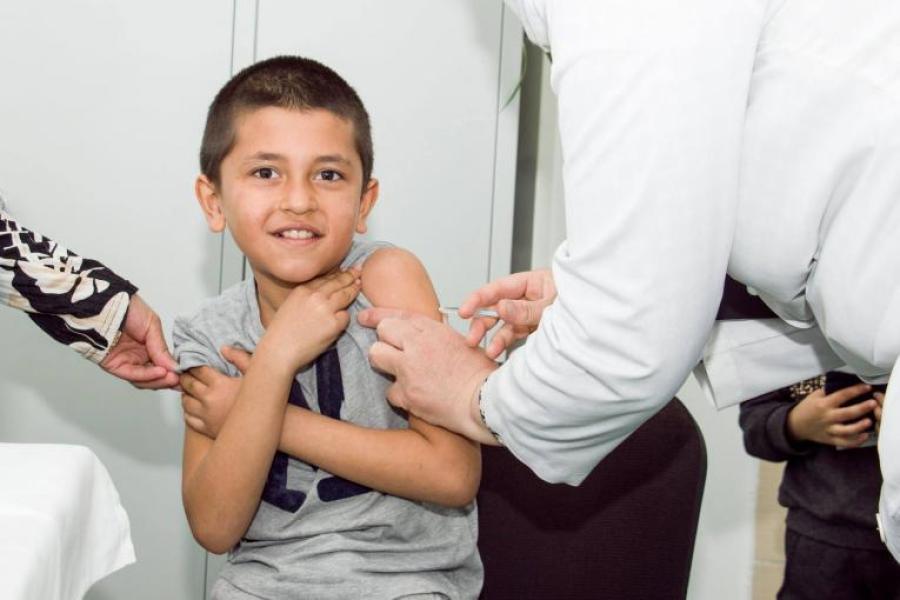 The COVID-19 pandemic is a devastating reminder of the chaos caused by diseases. Thanks to vaccines, we now have a way of ending this pandemic and to rebuild our lives. But we're not settling for a return to normal, as normal was never good enough for millions of children around the world. No child should die from preventable diseases and we won't stop until that's a reality.
This World Immunization Week aims to promote the use of vaccines to protect people of all ages against disease. Immunization saves millions of lives every year and is widely recognized as one of the world's most successful health interventions.
However, there are still nearly 20 million children in the world today who are not getting the vaccines they need, and many miss out on vital vaccines during adolescence, adulthood and into old age.  In Kosovo, only 38% of the Roma, Ashkali and Egyptian children under the age of 3, are fully immunized and are safe from preventable diseases while all the others are at risk.  In addition, there are children who may have missed their routine vaccines as health system got overloaded due to pandemic.
UNICEF Kosovo Office in partnership with National Institute of Public Health, and with the financial support from the Government of Luxembourg and the Embassy of UK, partnered with local NGO's on conducting door to door immunization campaign to the most marginalized families. In less than 8 months, health workers visited over 4,000 families identified and immunized 2,859 children who missed their routine vaccines during covid19.  
Murat Sahin, Head of UNICEF Kosovo Office says" Re-imagine the world with no vaccine against polio, measles, and other communicable diseases? Many children and families would miss their chance to live happy and healthy. And the COVID-19 has strongly reminded us how important the vaccines are, to save millions of lives. We are committed to work with Kosovo and institutions and international community that every child is fully immunized. 
WHO in Kosovo highlights that now we have vaccines to prevent more than 20 life-threatening diseases, helping people of all ages live longer, healthier lives. Immunization currently prevents 2-3 million deaths every year from diseases like diphtheria, tetanus, pertussis, influenza and measles. Immunization is a key component of primary health care and an indisputable human right. It's also one of the best health investments money can buy. Vaccines are also critical to the prevention and control of infectious-disease outbreaks. They underpin global health security and will be a vital tool in the battle against antimicrobial resistance.
In Kosovo, together with UNICEF, WHO is ensuring availability of COVID vaccines through the COVAX facility and helping health care system to better prepare and run immunization program to help people of Kosovo to fight the unprecedented outbreak of COVID-19.
While the pandemic continues to have a knock-on effect on essential services for children, including immunization, UNICEF and WHO in Kosovo are calling all parents and care givers to take action and vaccinate their children. Vaccines Save Lives.
#About UNICEF
UNICEF works in some of the world's toughest places, to reach the world's most disadvantaged children. Across more than 190 countries and territories, we work for every child, everywhere, to build a better world for everyone. For more information about UNICEF and its work for children, visit www.unicef.org./kosovoprogramme  
#About WHO
WHO has a broad mandate of achieving better health for everyone and working with 194 Member States across six regions and from more than 150 offices. Immunization remains one of the most important tools in fighting epidemics throughout the world alleviating suffering of vulnerable populations.
For more information about WHO please visit www.who.int; www.euro.who.int
During this Immunization Week, Take Action – Vaccinate Your child!
UN entities involved in this initiative
UNICEF
United Nations Children's Fund
WHO
World Health Organization
Goals we are supporting through this initiative