Story
"YES, WE'RE OPEN!"- Warm Invite From Ambitious, New Entrepreneurs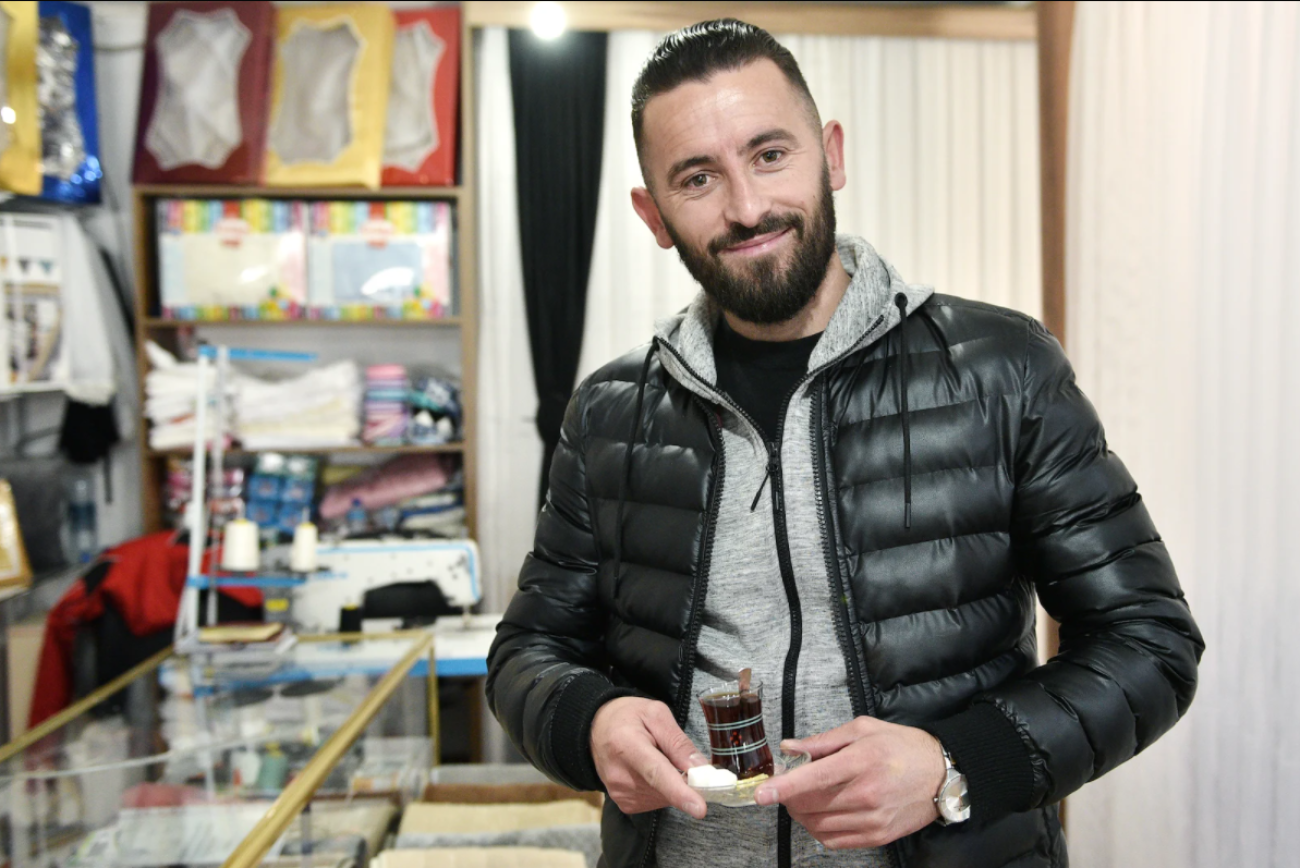 The story of Ajtene and Behar is that of many Kosovan returnees, aspiring reintegration into society through business ownership amidst a pandemic.
One a tailor, the other a hairdresser, both defy the staggering unemployment statistics haunting Kosovo's youth. UNDP in Kosovo, through its Active Labour Markets Programme addresses the overarching issue of unemployment via providing technical assistance to public employment services and direct labour market measures for young jobseekers. The story of Ajtene and Behar, is that of many beneficiaries employed through these measures.
The textile and apparel industry in Kosovo was formerly second only to mining, however, today it employs only around 1% of registered employees in Kosovo, due to the know-how and long-lasting tradition, the sector still presents a great investment potential. The profession is labour intensive and in combination with creativity and experience, presents a great economic potential for young entrepreneurs.
Behar Januzi has a long-lasting admiration for tailoring, he is a repatriated Kosovan from Germany, and has been sewing his idea of entrepreneurship ever since he read about the Self Employment Programme. Just across one of the main bazaars (market) in the city of Vushtrri/ Vučitrn you find Behar and his recently set up business of tailoring, registered in the January 2021. Normally, the bazaar would be packed with people, buzzing of activity. But nowadays, because of COVID-19, customers are not many. According to the Rapid Socio-Economic impact assessment of COVID-19 in Kosovo, 55% of businesses reported negative effects of the pandemic, with over 80% indicating shortage of clients. But these numbers do not sway Behar, he believes in his business, so you will find him at the shop every day, waiting for his clients, all smiles and ready to serve them. 
The number of clients is still small but rising daily, and Behar makes sure to welcome them with a 'çai rusi', a type of black tea that's very traditional and part and parcel of the daily routine of everyone in Vushtrri/ Vučitrn. "That is how I start my day and it puts me in a good mood. It is also my way of making the clients feel welcome at my place", says 31 years old Behar.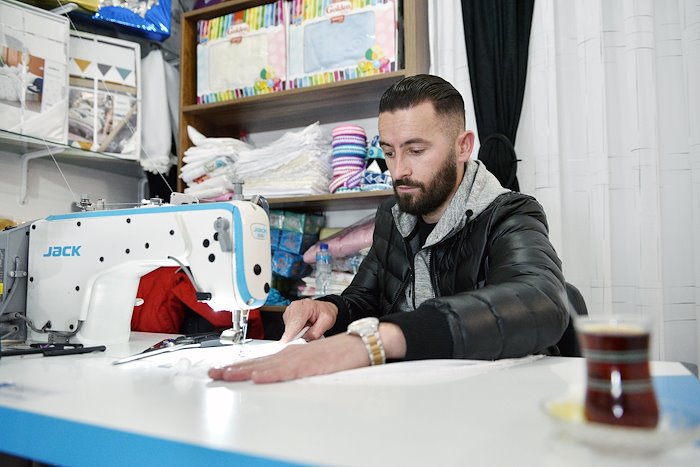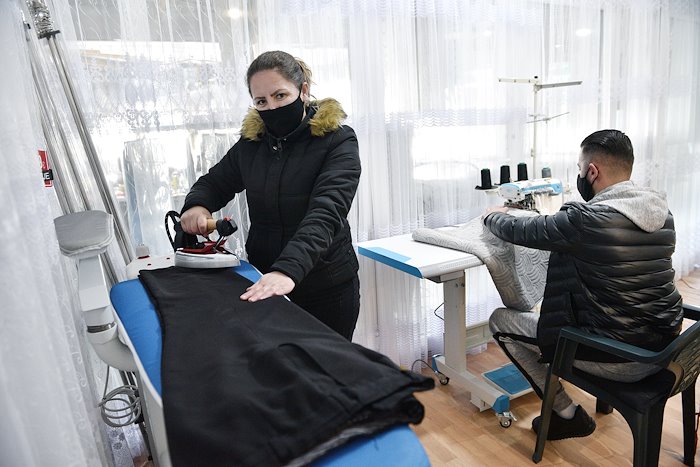 Behar works together with his sister who has 15 years of tailoring experience. She was instrumental in helping Behar develop the concept for his tailoring business, and they support each other, always looking to improve and expand the business. Behar was among the many beneficiaries of UNDPs Self Employment Progamme, through which he received vocational training and direct grant assistance with tools and complete set of equipment to finalize his shop.
When we visited the shop, both Behar and his sister were busy preparing his fiancé's 'boshqe'- a handmade, embroidered gift prepared using fine, traditional techniques. The 'boshqe' is a traditional engagement day gift– a custom present throughout Kosovo.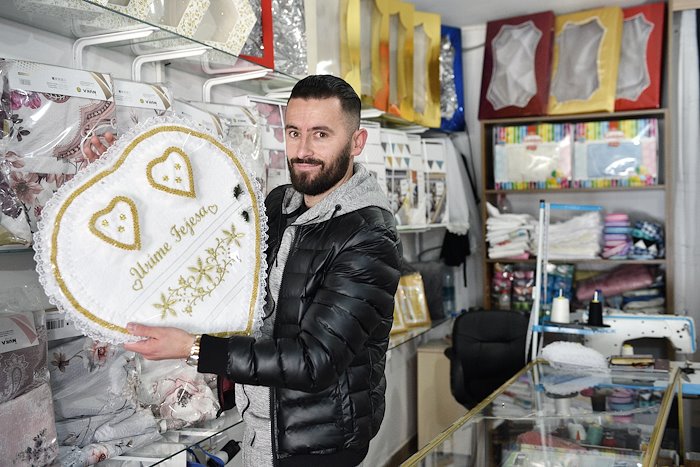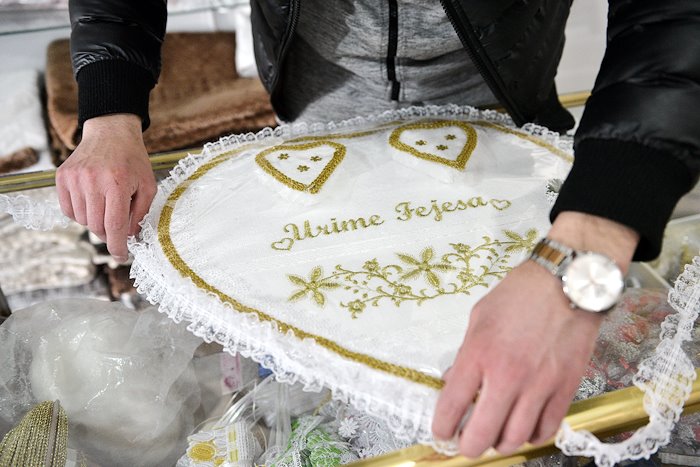 Though Behar's professional training covers a wide range of tailoring products, his specialty is preparing curtains, mostly for private clients. The equipment he received through the grant, eases the workload, and allows both Behar and his sister to simultaneously work on multiple pieces at the store. This way, they can cater to a wider clientele, producing clothing and embroidery pieces as well.
Entering Behar's shop, order and attention to details, and quality, strikes the eye immediately. Behar believes in the importance of talent but also commitment and disciple in every aspect of his business – and the shop oozes of his love, dedication, and true commitment for his work as a new, proud entrepreneur in the tailoring business.
Wishing Behar all the best for his upcoming nuptials, we leave the old city of Vushtrri/ Vučitrn, and travel 25 km away- to one of the most frequented parts of Prishtinë/Priśtina, and meet another hardworking and talented entrepreneur, Ajtene Azemi.
Women own less than 10% of businesses in Kosovo, however this did not stop Ajtene from walking to the local employment office and taking matters on her own hands. Ajtene was informed on employment measures from her counsellor, and attended vocational trainings, where she learned key skills in business management, and later applied for the Self-employment Programme. Apart from employment measures, UNDP provides direct technical assistance to the Employment Agency by upgrading employment office services and training module availability at the vocational training centers. After compiling a business plan, Ajtene applied and received a complete set of equipment for her hairdressing salon. She now proudly stands in front of "Ayten Salon", where she serves her regular customers and shares her path to successful entrepreneurship.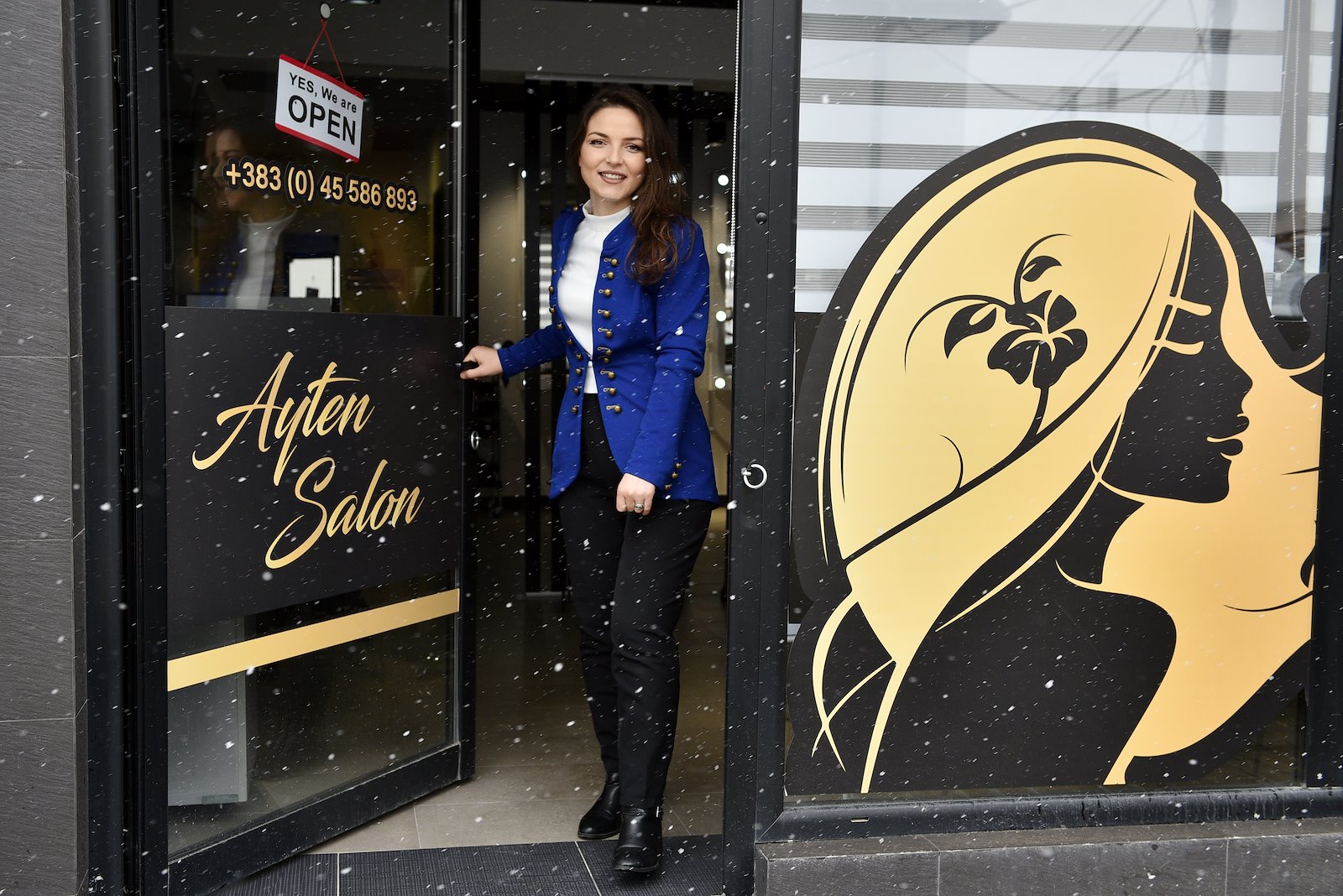 "Yes, we're open", says Ajtene when you knock to enter her salon, just as the sign on the door, welcoming interested clients. Ajtene is very busy since she handles all customers and services herself - always very committed and a with a vibrant energy.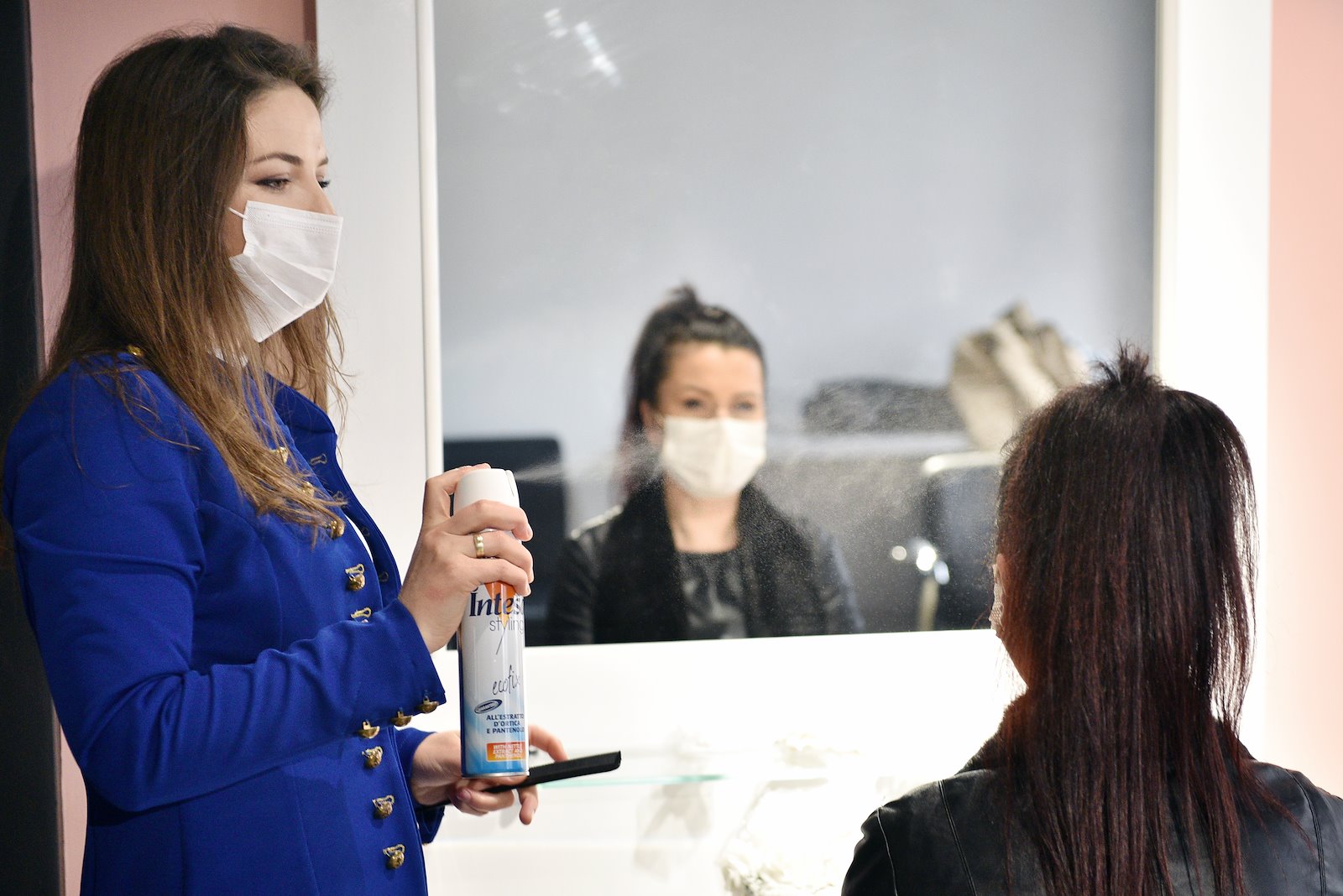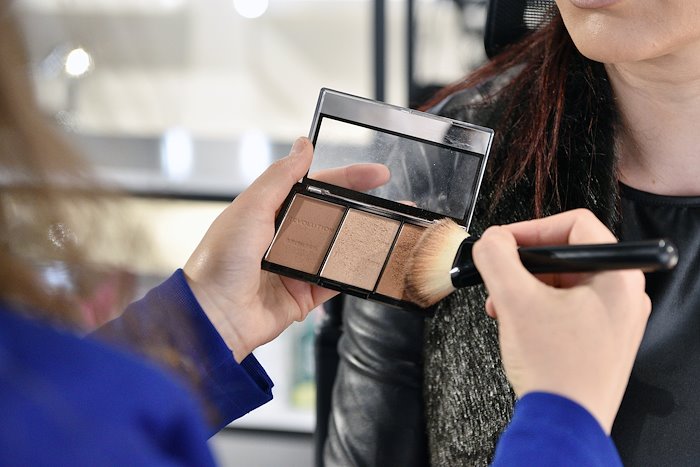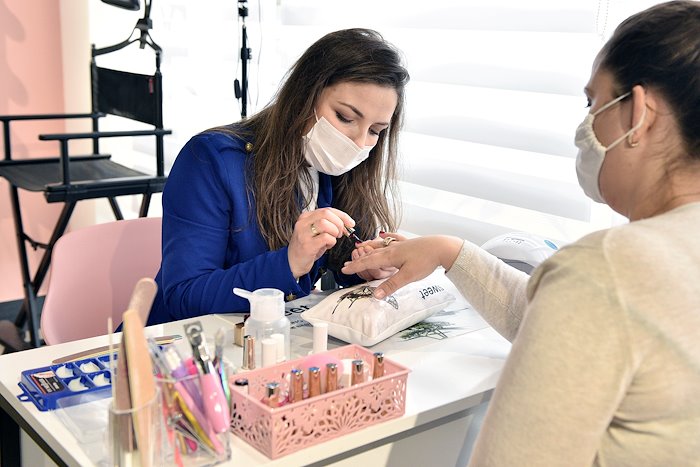 This achievement for Ajtene is not only a dream come true, career-wise, it is also an important steppingstone of 'settling back home'.
In 2015, Ajtene and her husband moved to Germany. She gave birth to her son whilst in Germany and after two years, when her son was only ten months old, Ajtene and her family repatriated back to Kosovo. The family was very happy returning to Kosovo and although Ajtene initially focused on taking care of her son, her dream was to own her own business. Difficulties in implementing the labour law on maternity leave contribute to women's over-representation (estimate of 60%) in informal work, however Ajtene was committed to establishing her own business and went for the training.
"It took a while for me to finally set up my own place and have a business where my clients would feel welcome and at home, something I always dreamed of. It was very tough but, in the end, it really paid off. And - if I can do it, any women that have an idea and the willingness to follow their dreams, can do it".
One of the main business activities developed by women in Kosovo is hairdressing, namely hair salons and other beauty treatments. According to the Kosovo Business Registration Agency, nearly 6,300 hairdressing and beauty salons have been registered until now.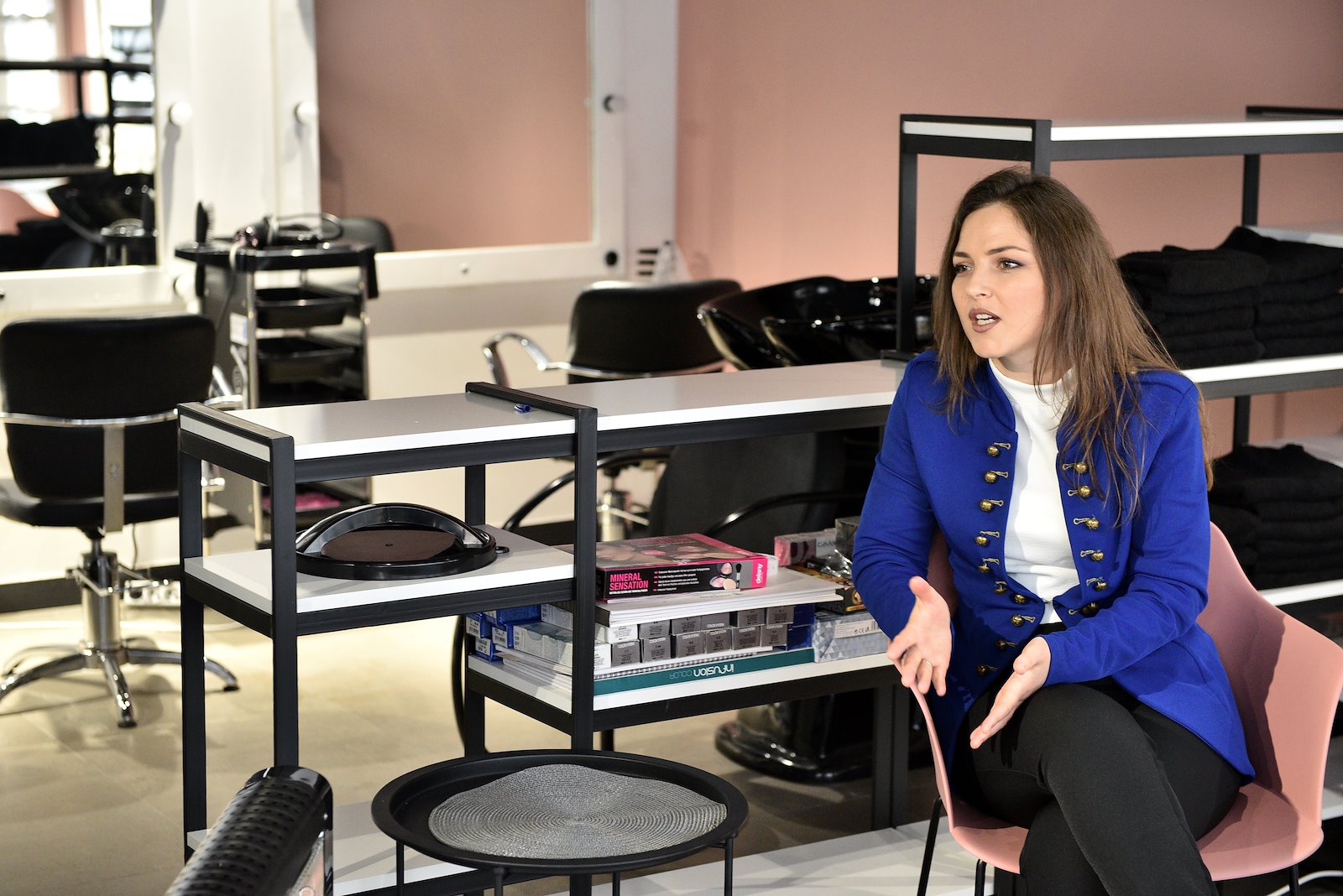 Both Behar and Ajtene were supported via the Self Employment Programme, implemented by ALMP2, the second phase of UNDP's employment programme implemented since 2005.
The Self Employment Programme has a particular focus on women and vulnerable groups, with the aim of creating viable businesses capable of growing in a competitive market. During 2020, 136 repatriated jobseekers were supported with vocational training as well as tools and equipment to open new businesses. The project's main component, along with the institutional capacity development, is the employment of young women and men, with over 15,000 jobseekers having been part of one of several active labour market programs implemented in the last decade.
Despite all the challenges related to COVID-19 pandemic that has faced during the implementation, the ALMP Project has managed to provide training, employment, and self-employment opportunities for 231 repatriated persons during 2020.
As we are marking the "Micro, Small and Medium-sized Enterprises Day (MSMEs) 2021: key to an inclusive and sustainable recovery", we cherish these two young entrepreneurs, Ajtene and Behar who overcame all the obstacles after repatriated in Kosovo, joined the labour market and are working hard to recover from the impact that COVID-19 pandemic had in their recently established businesses.  
UN entities involved in this initiative
UNDP
United Nations Development Programme
Goals we are supporting through this initiative