Municipalities on the Move: Sustainable Urban Mobility Solutions in Kosovo Take Center Stage for World Environment Day 2021
"Green Cities in Motion" has been UN-Habitat's Kosovo slogan to promote and preserve the environment on the World Environment Day, 5th of June.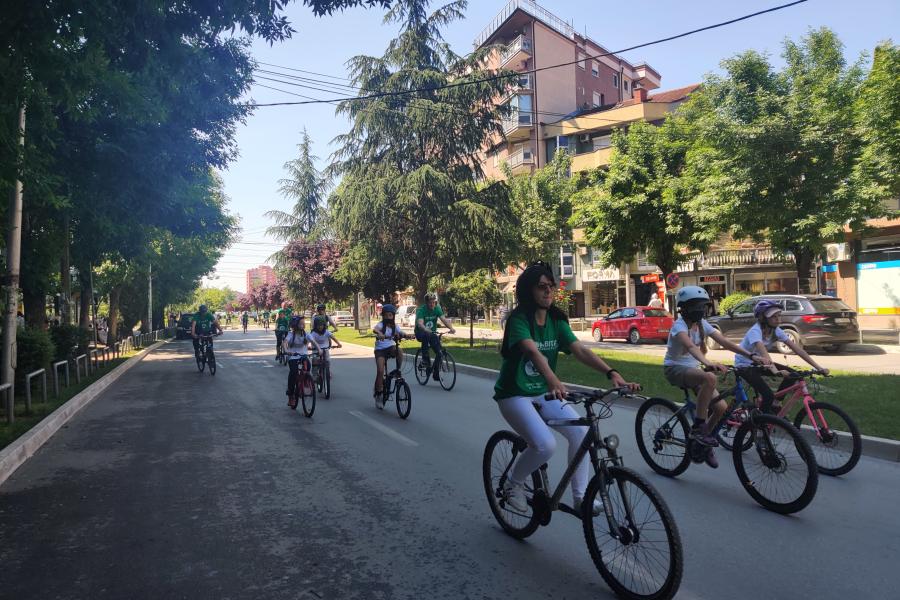 To mark this day, UN- Habitat Kosovo has organized several activities aimed at raising citizens' awareness of the role they can play in protecting the environment. World Environment Day (WED) is celebrated on 5 June each year and is the United Nations' main tool for encouraging environmental awareness and action.
For this year's World Environment Day commemoration in Kosovo, UN-Habitat Kosovo has organised a symbolic bike ride in Mitrovica South in cooperation with the local government, development partners and Government of Kosovo. More than 50 bike riders joined the event throught Mitrovica South, escorted by a Kosovo Police bikers unit.
According to the Head of UN-Habitat Kosovo, Omar Siddique, we have to rithink the urban development, as of the number of cars is raising in unprecedent numbers in Kosovo. "We know with 4.4 annual increase in traffic that roads are going to be congested with cars, in the next 16 years these numbers will double for Kosovo", said Siddique.
Besides developing the Sustainable Urban Mobility Plan (SUMP) for Mitrovica Region, on this day, UN-Habitat Kosovo has also launched the national Guidelines for Sustainable Urban Mobility Planning for Kosovo and is seeking cooperation with other municipalities to ensure a sustainable future for Kosovo. According to Siddique, other municipalities also should consider a green mobility as crucial to their development. "It is important to disrupt the future orientation of this car-oriented development to Sustainable Urban Mobility Planning like the once that we have done for the Mitrovica region and today we launched the national guidelines for Sustainable Urban Mobility for Kosovo which we hope will inspire other municipalities in Kosovo to really put green mobility as central to their urban development strategies", highlighted Siddique.
This activity has been implemented under the Inclusive Development Program, financed by SIDA and implemented by UN-Habitat Kosovo, Community Building Mitrovica and PAX.
UN entities involved in this initiative
UN-Habitat
United Nations Human Settlements Programme