Opening of The Third Edition of Multicultural Festival - "Women, architects of society"
The Multicultural Festival will this year be held on June 2, 3, and 4 under the theme of "Women, architects of society".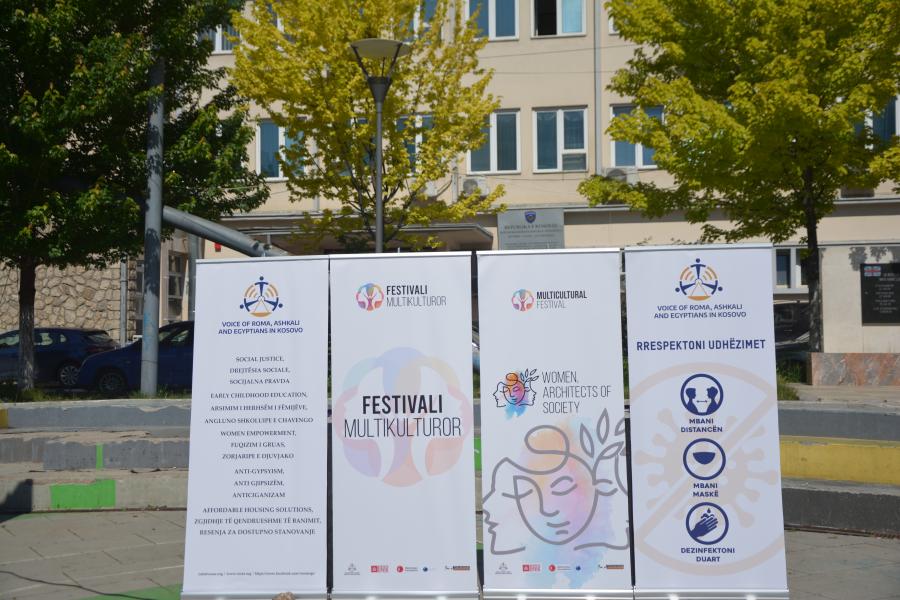 The NGO "Voice of Roma Ashkali and Egyptians" is for the third time organising the Multicultural Festival with the aim of raising awareness on challenges, empowerment, prejudices and stereotypes that exist towards women of the Roma, Ashkali and Egyptian communities.
The main purpose of the festival is to gather national and international actors, key influential policymakers and human rights activists. As this year is dedicated to women; in whom we find more than anywhere else and inspires us with strength of courage, love, character, as well as the great vision for the future, and hope for sunny days.
This year´s festival began with an open-air business fair and presentations were organised by prominent young Kosovan artists, including painters and musicians, as well as opening remarks from national and international representatives who support the festival.
Her Excellency Vjosa Osmani, President of Kosovo addressed the audience by saying: "Dear women and girls of the Roma, Ashkali and Egyptian communities, you have challenges that are twice as difficult for you. You know how difficult it is to break down barriers in patriarchal societies. You are an inspiration to each of us, to the women who meet you today for the first time and to the women of your communities".
Her Excellency Mrs. Pia Stjernvall, Ambassador of Finland to Kosovo said: "I'm glad to see you here. We have come to celebrate and appreciate the Roma, Ashkali and Egyptians. We support this organization because we think they did an excellent job and we are honored to be able to support their work".
Mrs. Katharina Stocker, Director of the Swiss Cooperation Office in Kosovo: "Switzerland works in various organizations to advocate for change and the fight against anti-Gypsyism. I am pleased to see here women entrepreneurs who have opened businesses even though they have had many barriers to entering the labor market".
Ms. Ulrika Richardson, United Nations Development Coordinator: "The pandemic has taught us that: No crisis is negligent of the sexes: the woman will always have the greatest burden. "I like the title of the festival" Woman, architects of society "because to be an architect sometimes we collapse things and here the barriers we have lived with for a long time must collapse".
Mr. Isak Skenderi, Executive Director of the Voice of Roma, Ashkali and Egyptians: "Our society must accept the concept of multiculturalism and equality as a natural process which will only make us richer and better".
In addition to various activities throughout the three days of the festival there will be discussions on issues that have a direct impact on society, including various panelists from the country and the region.
UN entities involved in this initiative
RCO
United Nations Resident Coordinator Office
Goals we are supporting through this initiative