Story
No Legal Identity - No Existence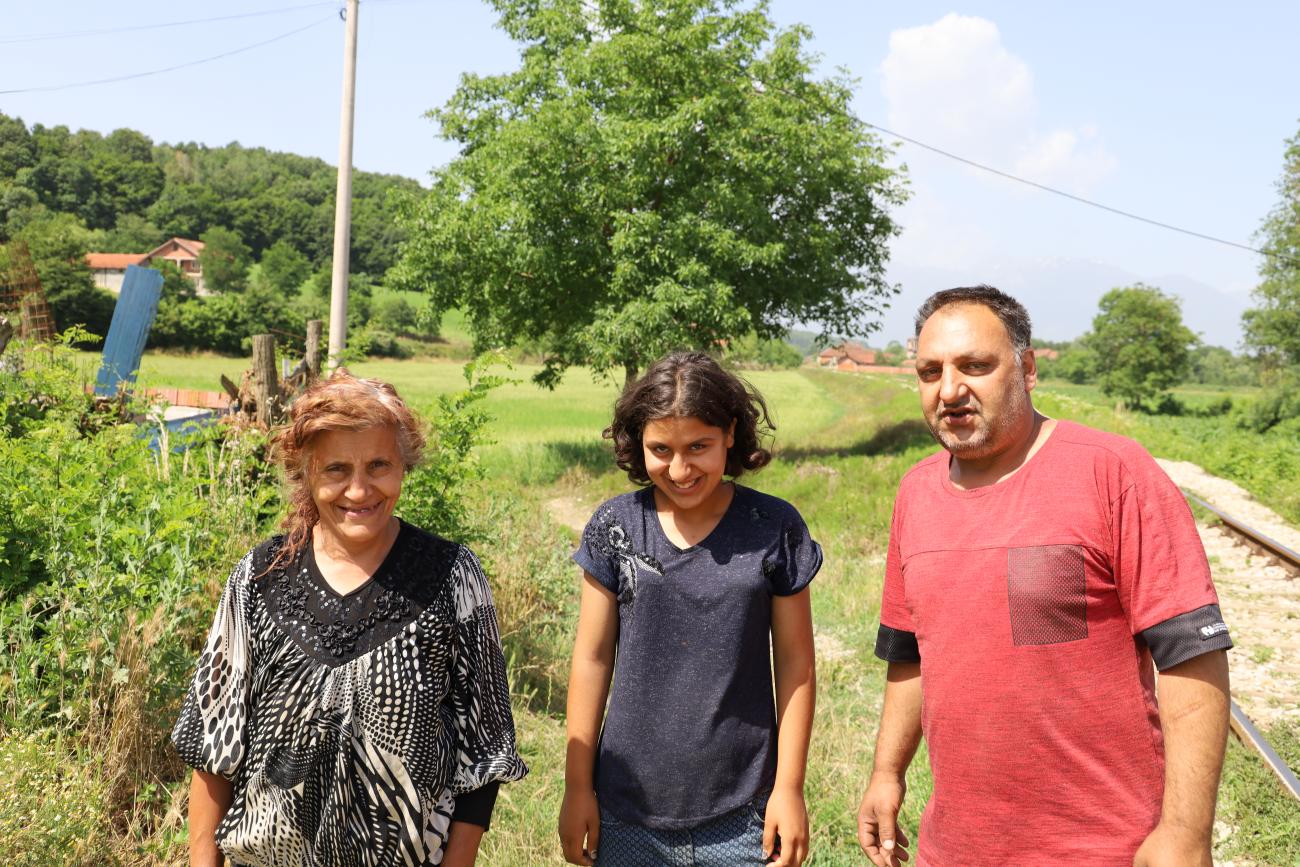 No matter how life's journey has shaped the perception of the world surrounding them, the dignity and kindness have remained untouched.
Meet the Kadrija family from the village Tërstenik/Trstenik, Peja/Peć municipality, maintaining their lives in poor conditions, still happy despite countless challenges they do face every day, and much of headwind to establish a legal identity for Ana so that she could complete the civil registration for their lovely daughters.
Life was quite merciless on Ana already at her childhood times. In the aftermath of the 1999 conflict in Kosovo, she was found wandering on the streets desperately looking for protection, without personal documentation, alone and frightened. Since the early childhood, Ana had to deal with illness, lack of parental care and spending a part of her childhood in the dismal atmosphere of special institute for abandoned children focusing on those who show signs of mental health disorders. At the age of 34, Ana came to Kosovo joining the flaw of refugees from Croatia, where she found shelter. Yet again, destiny played hard on her, she falls in-between of the cracks of the system back then, without any protection. Only when her current common law husband provided her with a shelter and family warmth, her good life clock started ticking. Sadly, Ana has no memory of her past and does not have any information about her real name, nor of that of her parents.
In 2000 and 2003 she progressed in establishing her own family when she gave birth to two daughters, however, not able to register them at birth as Ana did not possess any civil registration documents. Despite numerous interventions to grant Ana and her daughters with personal documentation, it was "a mission impossible" to legalize their civil registration status. Even the local and appeal courts have refused to provide solution through a late birth registration procedure to her children due to lack of Ana's identity.
Lacking any identity document, Ana could not undertake any medical check and eventually obtain the appropriate treatment. Ana's fate also affected one of her daughters, which by mischance has inherited Ana's mental health condition and remains untreated due to the lack of birth registration.
When our UNHCR team visited Kadrija family, Bajram, her spouse, expressed his gratitude to UNHCR for the continuous support and help the organization has provided to the family. Bajram went on and remarked:
"Now that Ana has an ID card it will make our lives easier, first she will have access to health services, then we will be able to register our daughters"
The family lives with a minimal income, mainly ensured by Bajram, the head of the family, who collects used raw material and sell it to the recycling companies. In the past, without documents, Ana and her family could not apply for social assistance and obtain more inclusive health care. But this will change soon:
"One thing that will make us very happy after the registration of our children is that our eldest daughter Lauresa, who is recently married, will have the opportunity to formalize her marriage and become a mother, so Ana and I will have the opportunity to become grandparents." Said Bajram.
With the well-judged legal interventions and advocacy of the UNHCR, Office of the Chief of Mission in Pristina and its legal partner, the Civil Rights Program Kosovo, in January 2021, a request for recognition of stateless status was filed.
Finally, at the age of 50, in June 2021, Ana received a positive decision and has now a legal identity card of a person with stateless status with a prospect in five years to regularize her legal status further. The granting of the legal status will also conclude the late birth registration of her children and nieces and nephews in the future. The possession of a personal civil status document will enable, both, Ana and Laureta, to access free health care services, as well as all other services available to documented persons.
Ana has regained her smile and looks ahead to a better Future!
UN entities involved in this initiative
UNHCR
United Nations High Commissioner for Refugees