Story
Raise Your Voices and Work Together to Transform Lives, During the 16 Days of Activism, and Every Day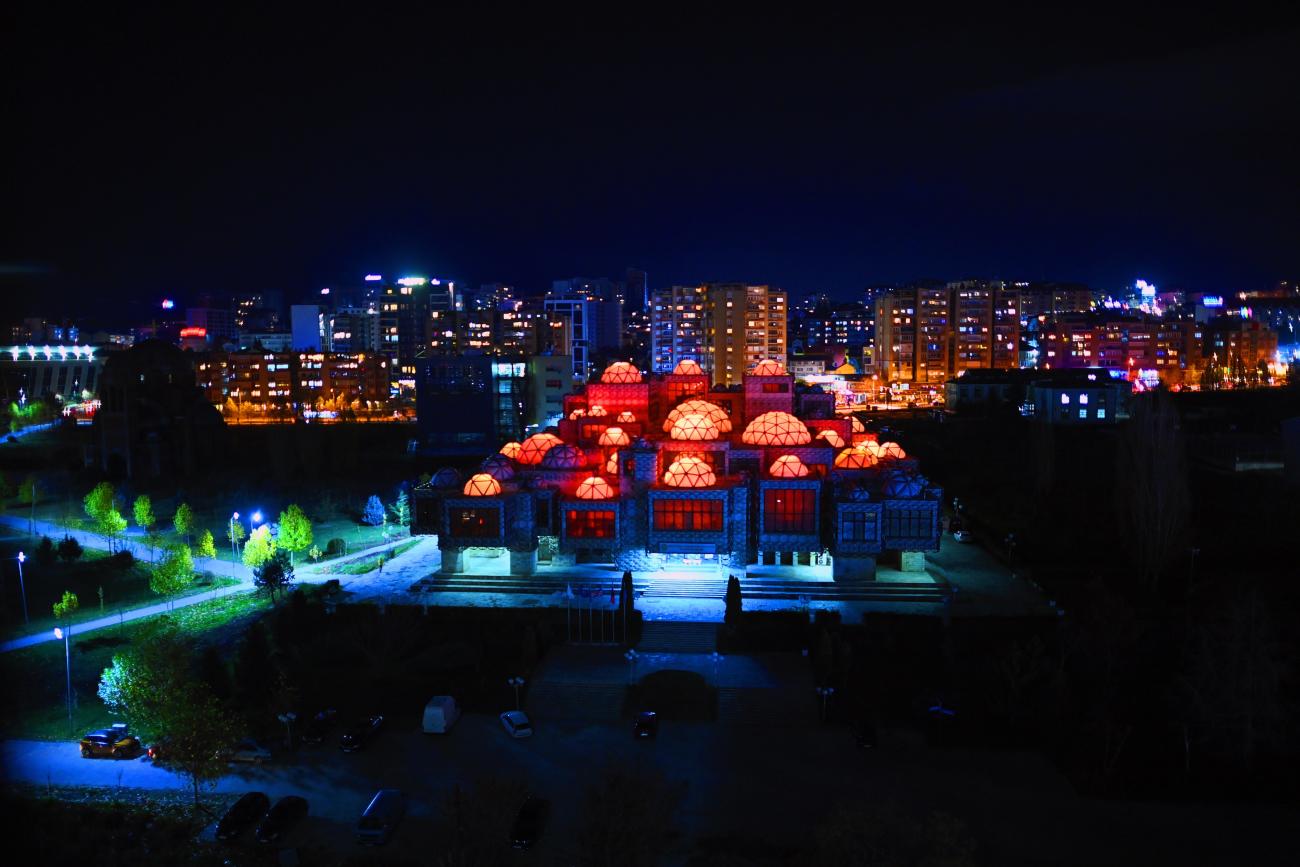 16 Days of Activism against Gender-Based Violence Campaign launched with activities calling for urgent elimination of violence against women!
The International Day for the Elimination of Gender-Based Violence, November 25th, marks the start of the international campaign "16 Days of Activism Against Gender-Based Violence." Under the global theme "End Violence against Women Now!" a number of activities marked the start of the campaign, underlining the urgent need for eliminating violence against women.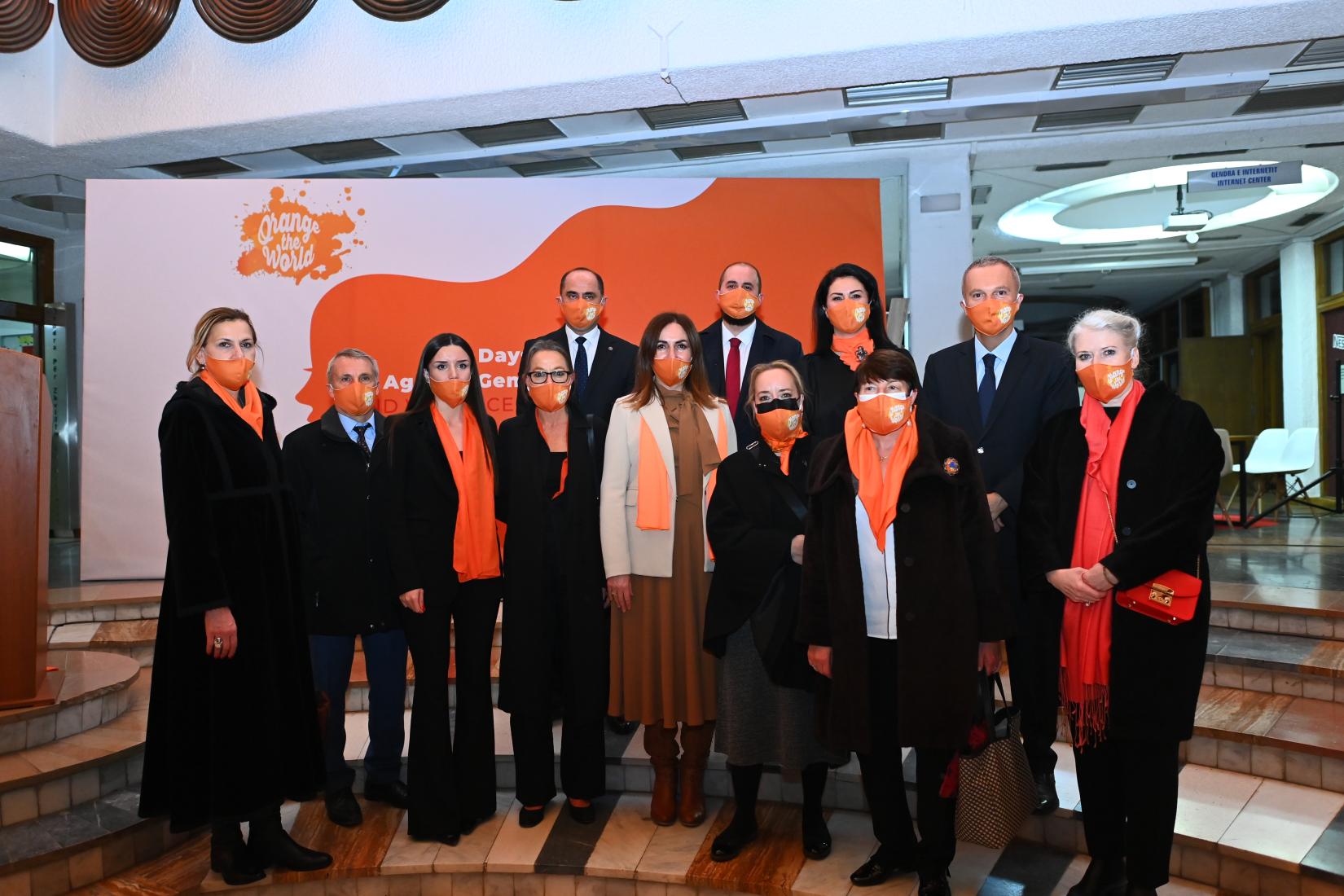 On the launching day, a ceremony was organized in the National Public Library "Pjeter Bogdani" to mark the start of the campaign and lighten the library in orange, the official colour of the campaign, calling for a brighter future for women and girls. The annual "oranging" of the National Public Library was marked with a number of inspiring speeches.
The host of the ceremony, Vlora Tuzi Nushi, Head of UN Women Office, emphasized that the best cure against gender-based violence is education. "While there is no vaccine against gender-based violence, it is at our hand to prevent it. And the best vaccine is education. "16 Days of Activism Against Gender-Based Violence" campaign, this year conveys a powerful message: End violence against women now!"
Minister of Education, Arberie Nagavci, stated that gender-based violence can only be fought by educating young generations and by planting the culture of equality since early in girls and boys. "Preventing violence begins with education, formal and informal. It is a duty to all of us to educate future generations without harmful gender norms, in order for women and girls to have a better future. We must engage men and boys, to become protectors of the rights of women and girls" she stated.
Diellza Hoti, the daughter of Armenda Aliu who was killed by her husband in August 2019, called for relevant institutions to treat with priority gender-based violence and called for the society to support and empower women. "Aware of the importance of this global campaign against violence against women, so that tomorrow there will be no more victims, I am among you today. I call on, men and women, boys and girls, let us take advantage of these 16 days of activism against gender-based violence, and further, to raise their voices, report violence, and together end violence against women and girls, today and forever."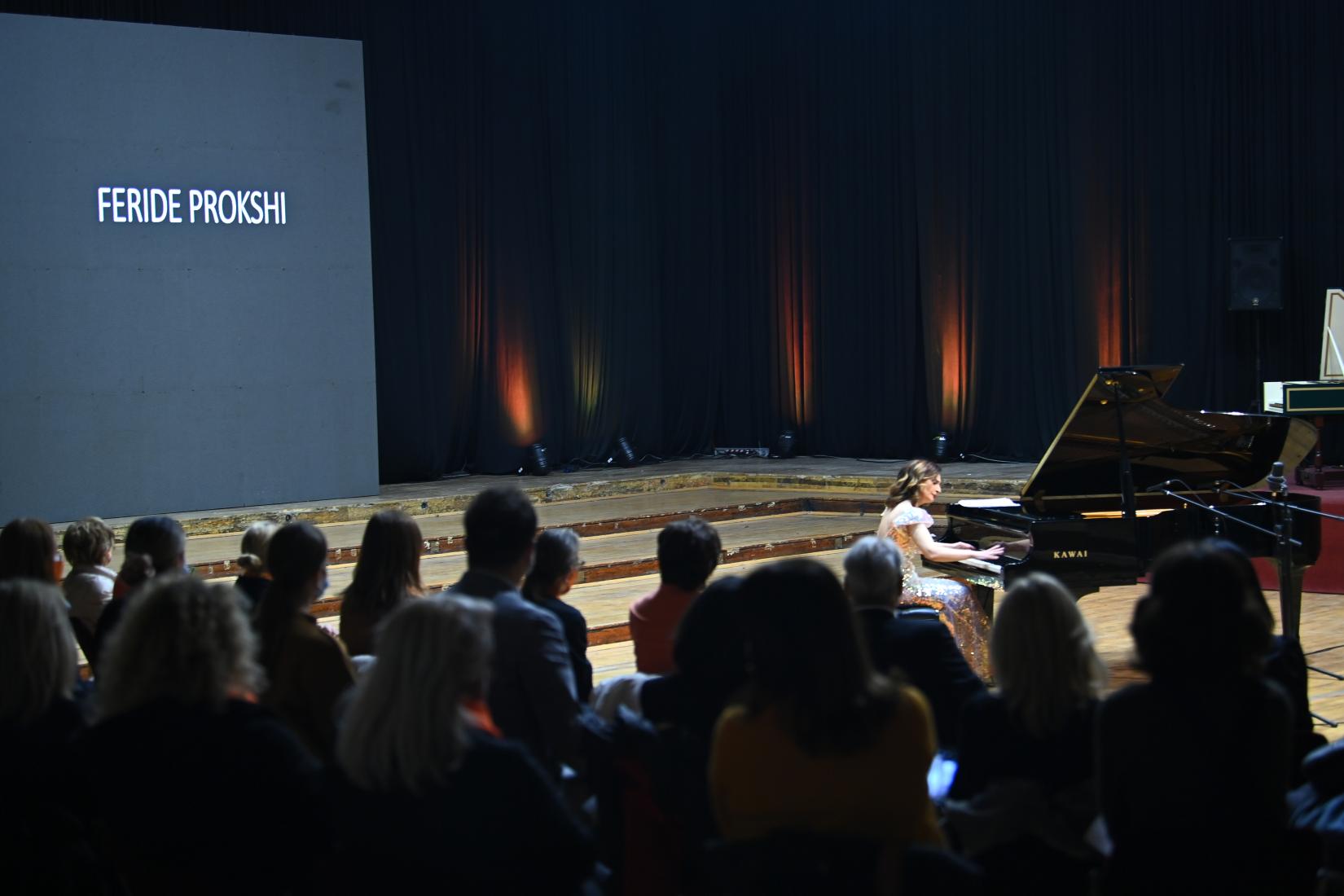 The ceremony of illuminating the library, was followed with a tribute concert to women who lost their lives by domestic violence, organized in collaboration with DAM Festival. Soloist Adelina Paloja and pianist Lule Elezi performed while the names of 14 women killed during the last 10 years in Kosovo were shown in the background.
Opening the concert, a speech was given by Ulrika Richardson, UN Kosovo Team Development, stated that this concert is a dedication to all women who faced a tragic ending, after trusting their partners. "When a woman is killed, very often by her beloved partner, this happens because she is a woman. Tonight, we are remembering these women through music that transmits emotions, empathy, solidarity and hope."
Every year, from November 25, International Day for the Elimination of Violence Against Women, to December 10, Human Rights Day, 16 Days of Activism Against Gender-Based Violence, is a time to encourage action to end violence against women and girls around the world. Kosovo has been part of the global "16 Days of Activism" campaign for several years now through the multi-stakeholder Security and Gender Group (SGG) chaired by UN Women.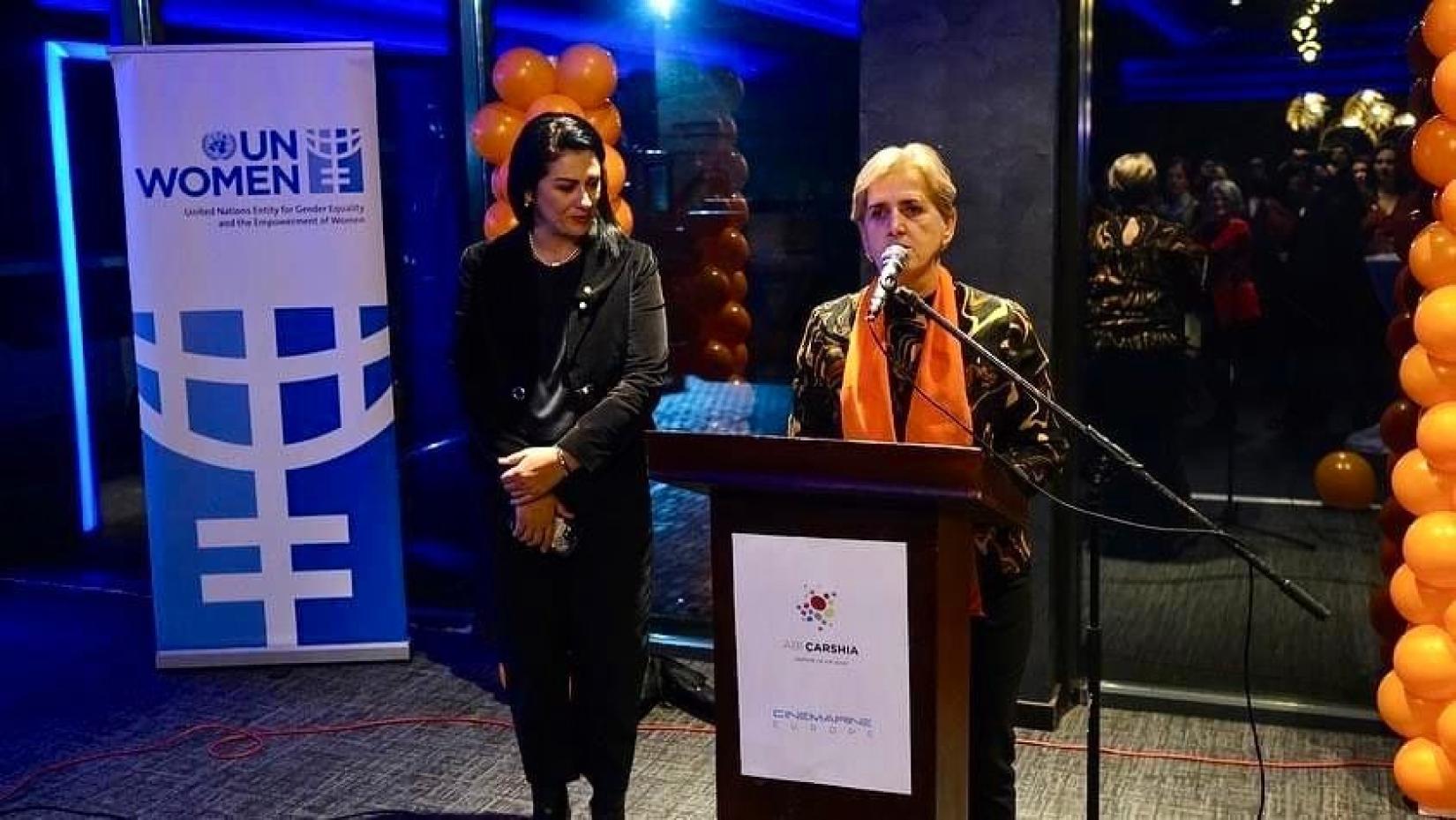 A key aspect of this year's UN Women #16days activities is also work with the private sector. Around 20 private sector companies and corporations have joined this year's campaign, raising awareness among their staff and customers on the role of the private sector in preventing gender-based violence. Further, aiming to address harmful gender norms and stereotypes, shift social norms and raise public awareness on the need to eliminate violence against women, these companies have displayed products with campaign insignia, and published campaign material on their social media. These companies and corporations have committed to embed gender equality across workplace cultures, policies, and practices with a significant impact on both the business and community. To mark the joining of the private sector UN Women jointly with Abi Çarshia, Cinemarine organized a ceremony, and a special HIVE movie screening. The event gathered private sector, civil society and Domestic Violence Coordination Mechanisms representatives. The special guest of the night Mrs. Fahrije Hoti, the real-life heroine on whose life the movie HIVE was based upon, oranged ABI Carshia and called for increased efforts to prevent violence against women.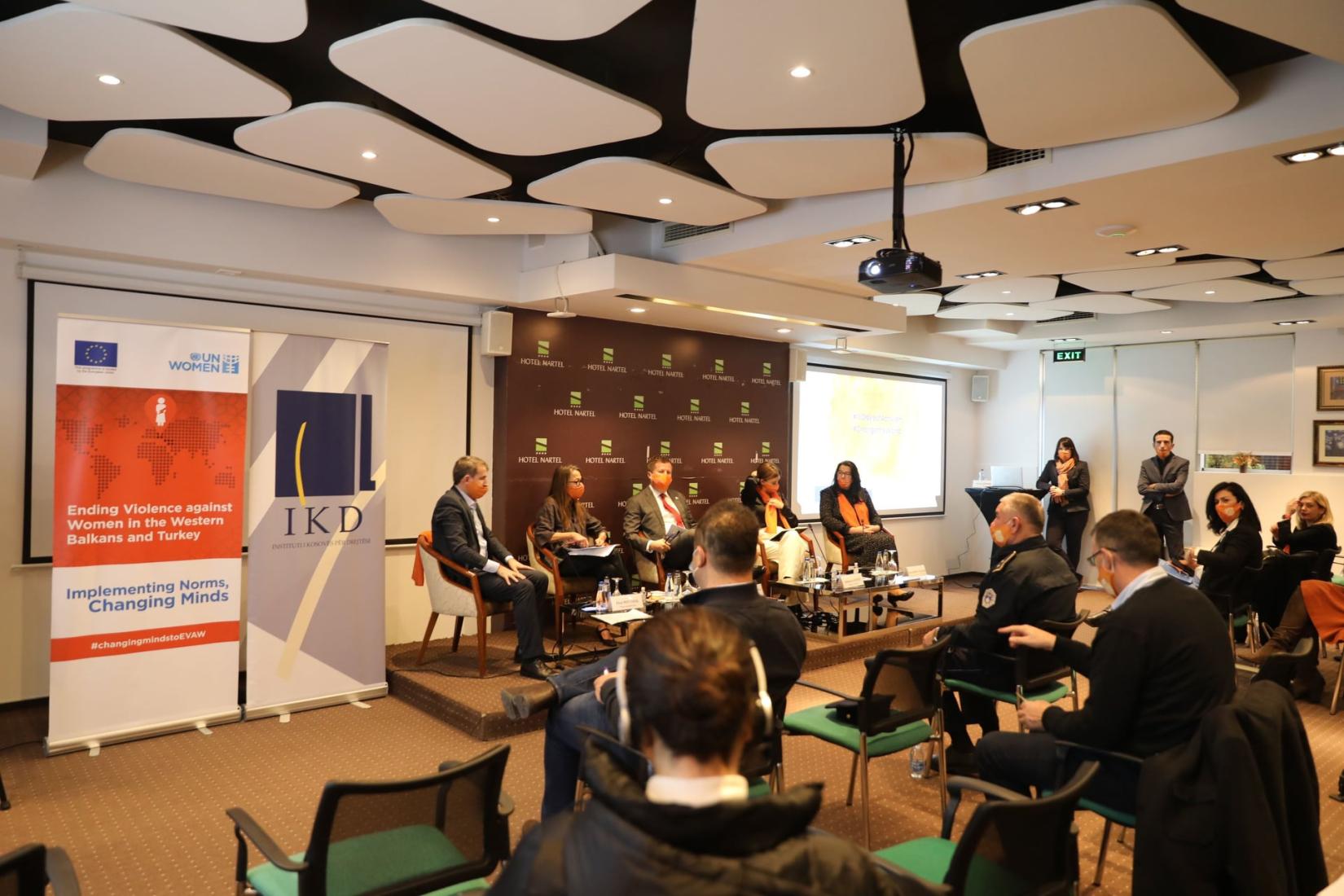 On November 29th, UN Women and Kosovo Law Institute launched the Online Platform for Free Legal Aid. This platform as part of the Free Legal Aid Center will bring new hope to domestic and gender-based violence survivors as it will facilitate access to free legal aid (and the overall access to justice) with focus on women from marginalized communities, women with disabilities, as well as women from rural areas and from disadvantaged economic backgrounds. The platform is very user friendly, available in Albanian and Serbian and has multiple option through which women can communicate with KLI lawyers and easier access their rights. Speaking during the event, Ulrika Richardson, UNDC, stated: "The new online platform launched today is a large step forward to ensure justice for women and girls survivors of gender-based violence. The fact that it is launched during the global #16daycampaign gives it a special symbolism & meaning. The new platform will bring allow women to access knowledge about what steps to take to get justice, especially to survivors of domestic and gender-based violence. Through this platform women and girls will know their rights and have the tool to claim them."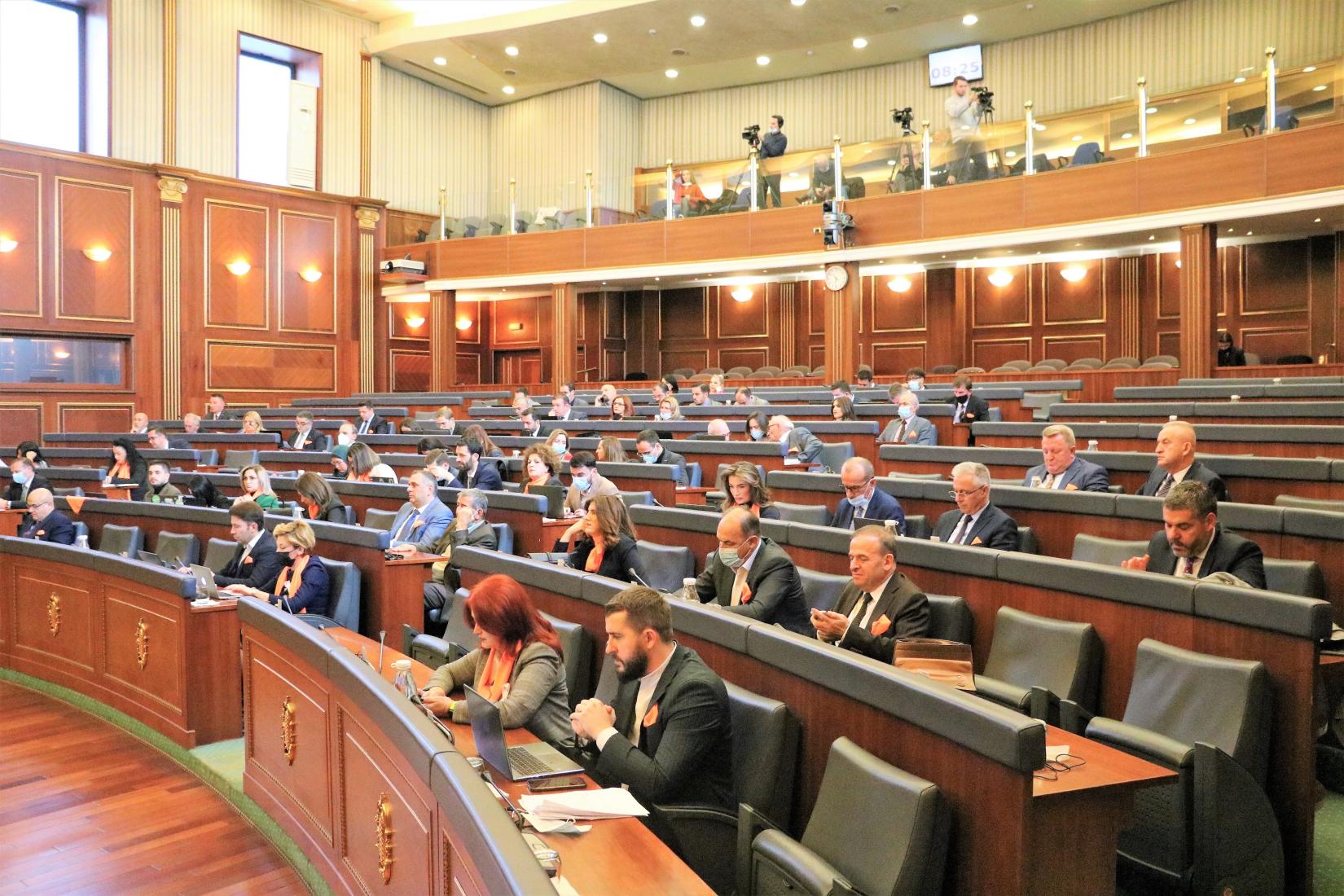 The Kosovo Assembly joined the "16 Days of Activism Against Gender Based Violence" campaign, where Members of the Assembly of Kosovo wore, shawls and other orange symbols in support the campaign, to raise awareness on the need to eliminate gender-based violence. The Speaker of the Assembly of Kosovo, Glauk Konjufca called for continued solidarity and continuous efforts, and actions to prevent violence against women, as well as to preserve and protect their dignity.
UN entities involved in this initiative
UN Women
United Nations Entity for Gender Equality and the Empowerment of Women