Story
It is Time We Give Our Cities more (Green) Space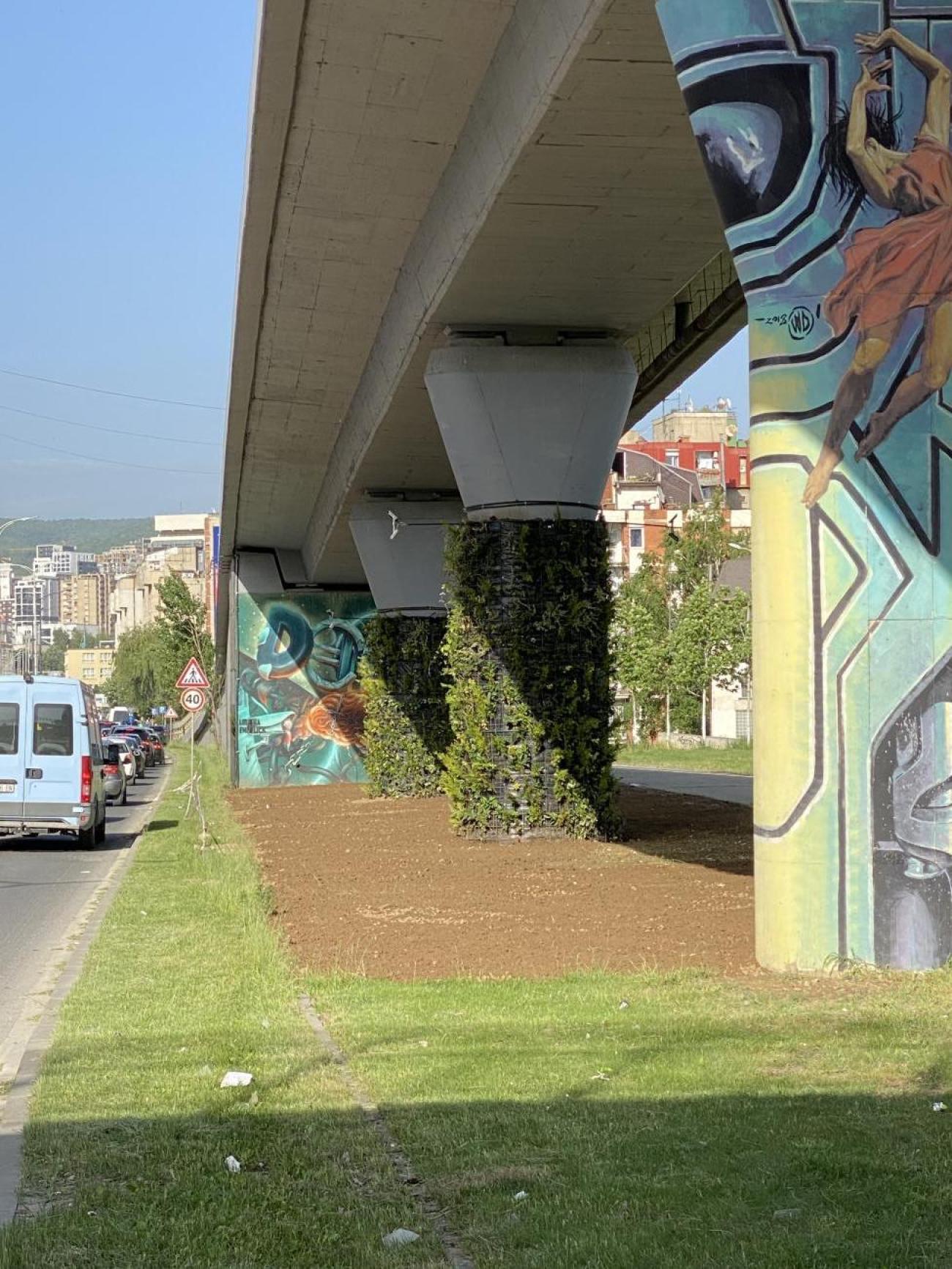 It is time we give our cities more (green) space
Raising awareness of climate issue challenges and finding ways to address climate change is a top priority for the United Nations. In this guest blog series that forms part of our Kosovo Climate Action campaign in November/December 2021, we invite experts and young people from Kosovo to share their views.
Shkrimin në shqip mund ta lexoni këtu LINK in Albanian!
Članak na srpskom jeziku možete pročitati ovde LINK in Serbian!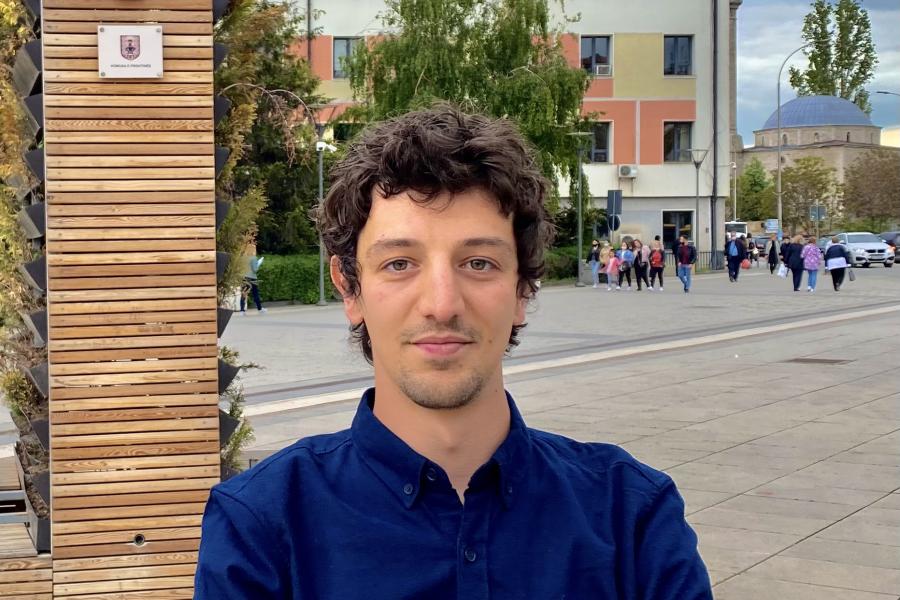 Dion Deva is the Founder and CEO of TePema, a green and sustainable design living space solutions company that operates in the Smart & Sustainable Cities industry. Te Pema is an innovative technological product that improves the quality of air, and consists of a panel installation, plants, and an integrated irrigation system that purify the air at maximum capacity.  In this guest blog, Dion talks about the linkages between climate change and air pollution, and how to address these through a combination of innovation, technology and design.
Take action on air pollution to save lives
When COVID-19 hit the world, global leaders, governments, communities came together to tackle unprecedented challenges to safeguard the well-being of their people and secure our future.  When COVID-19 hit the Western Balkans, the pandemic compounded an already existing, longstanding threat to our health: pollution.  Since the 1960s, the people of Pristina have been suffering from severe air pollution problems, particularly those generated by power plants that burn fossil fuels such as coal. This "virus" is not new. Albeit invisible, it has been long known that air pollution has tremendous negative effects on our health, through the particles we inhale from fossil fuels being burned for heating by households and from powerplants such as Kosovo A and Kosovo B. Although invisible, it is the concentration of these tiny, fine particles in the air that is largely responsible for illnesses and even deaths caused by air pollution.
Estimates vary, but analyses have shown that more than 10 million people die every year from a problem such as air pollution that doesn't receive the attention it should. To put it simply, air pollution has been killing more people than COVID-19. In addition to shortening human lives, air pollution can negatively impact our day-to-day lives, causing respiratory illness and increasing the number of days of missed work and school. Children are especially vulnerable to the impacts of air pollution: if you are exposed to air pollution during your early childhood, when the lungs are still developing, you can suffer from reduced lung capacity up through adulthood.
To tackle this urgent problem, our team at TePema decided to team up and join forces to work on a new, cutting-edge prototype product for energy efficiency called "TePema Facade 2.0", which aims to decrease the price of electricity bills by 30% and reduce 500kg of CO2 emissions per year from each household, in other words, it takes 50 years for a mature tree to absorb 500kg of CO2.What's more, the extraction and burning of fossil fuels is not only a major source of air pollution but also a driver of climate change.  Over the last twenty years, we have been witnessing climate change effects in Kosovo on our health, water, land, ecosystem, air, cities, livelihoods. When we design and select climate and air quality measures, we need to consider both CO2 and air pollutants in order to ensure that the desired benefits can actually be achieved. Air pollution is therefore not an isolated problem but closely related to broader global challenges. Even more importantly, reducing the dependence on fossil fuels would help deliver better health outcomes through improved air quality, prevention of agriculture losses, and by limiting long-term impacts and engaging in ongoing efforts to adapt to climate change.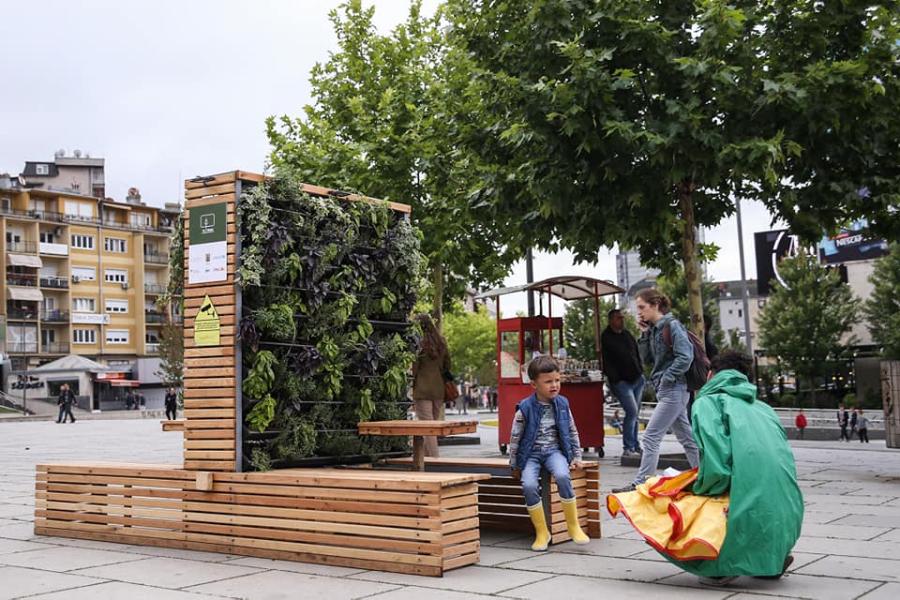 With support from UNICEF, we channeled Pristina students' creativity, enthusiasm, innovation into a green space, bringing more oxygen and nature into the city. Good urban planning, including the promotion of green spaces and improvement of air quality, is essential to ensure healthier and more sustainable cities, particularly as a growing part of people moves to large, urban centres. When we started the industrial design for eco-bench "TePema T", we looked specifically at the most pressing challenges affecting modern urban spaces but also at the key needs and preferences of their users. Our solution was to address both through a combination of design and technology.
We tackled problems such as the lack of green space and dull, grey floors and concrete surfaces in Pristina that we see ever too often, through the design of a single, mobile product (Eco-bench). We integrated plants, automatic irrigation and a rainwater recycling system into one product that allows to purify the air at maximum capacity. To put this into numbers, this corresponds to the equivalent of 300 plants in public spaces, but also addresses issues of lack of access to water for watering (a real struggle for cities and municipalities!) to ensure plants can be fresh all the time.  "TePema T" unit is evergreen, and the entire product works through solar energy.
A multi-dimensional approach is the key to achieve multiple benefits for air quality, climate, health, and sustainable development
Within this framework, cities are becoming the key incubators of new technology and innovation, but also an important piece of the puzzle to address climate and air pollution issues.  Globally, as well as in the Western Balkans, cities are growing fast, and so is the number of people living in urban areas. According to the World Bank, it is expected that in the 2040s, about 70% of the global population will live in urban areas, as opposed to 50%.
This means that the benefits of making our cities more environmentally friendly are "enormous". But to ensure better health and well-being for our people, in order to create better warning mechanisms and reduce climate risk, we need to develop the right infrastructure, and change the way we generate our power; heat our buildings; cool and light our homes; move and travel during our daily lives. In other words, it's time we give our cities more (green) space.
To reduce urban heat and regulate the microclimate, TePema designed and implemented the first Vertical Garden project in Kosovo, located in proximity of the "Bill Clinton" boulevard in the heart of Pristina. After two long years of preparatory work, the initiative was put together in only four months, which shows that positive, transformative change in Kosovo is possible through a combination of technology, dedication and creativity. In some cases, companies like TePema are funded directly by the government, valued as a strategic interest and provided with special financial or other incentives to ease bureaucratic burden. Germany is a good example of this approach, which calls for more governments to follow this model. 
We need governments, private sector and organizations to join the sustainability train and fully commit to create green, carbon-neutral, healthy cities. We have developed a new urban development initiative of 15 kilometers called the "Green Path of Pristina", which allows to simulate walking patterns and create a buffer zone between urban noise and car emissions. Among others, the idea would allow to improve city livelihoods and experience for their residents, in addition to achieving important health and environmental benefits. But to turn this idea into practice, we need public institutions, private sector and organizations to lead the way. Secondly, we need to recognize youth's potential and ideas to make our cities greener, as an unstoppable force to put climate action, air quality, and sustainable development at the heart of our cities and strategies.
For me, as a young entrepreneur and climate activist, this is an opportunity to build a transformative pathway driven by young people, inspired leaders and visionary entrepreneurs to work together and take action for lower air pollution and greener cities in Kosovo.
The views expressed in this post are those of the author and do not necessarily represent the views of the United Nations.
What are you doing to combat climate change? Tweet about it by tagging #KosovoClimateAction. Or ask your employer to join the Voluntary Commitments 
English: https://www.surveymonkey.com/r/GMKTKJ6
Albanian: https://www.surveymonkey.com/r/GMKTKJ6?lang=sq
Serbian: https://www.surveymonkey.com/r/GMKTKJ6?lang=sr
UN entities involved in this initiative
RCO
United Nations Resident Coordinator Office